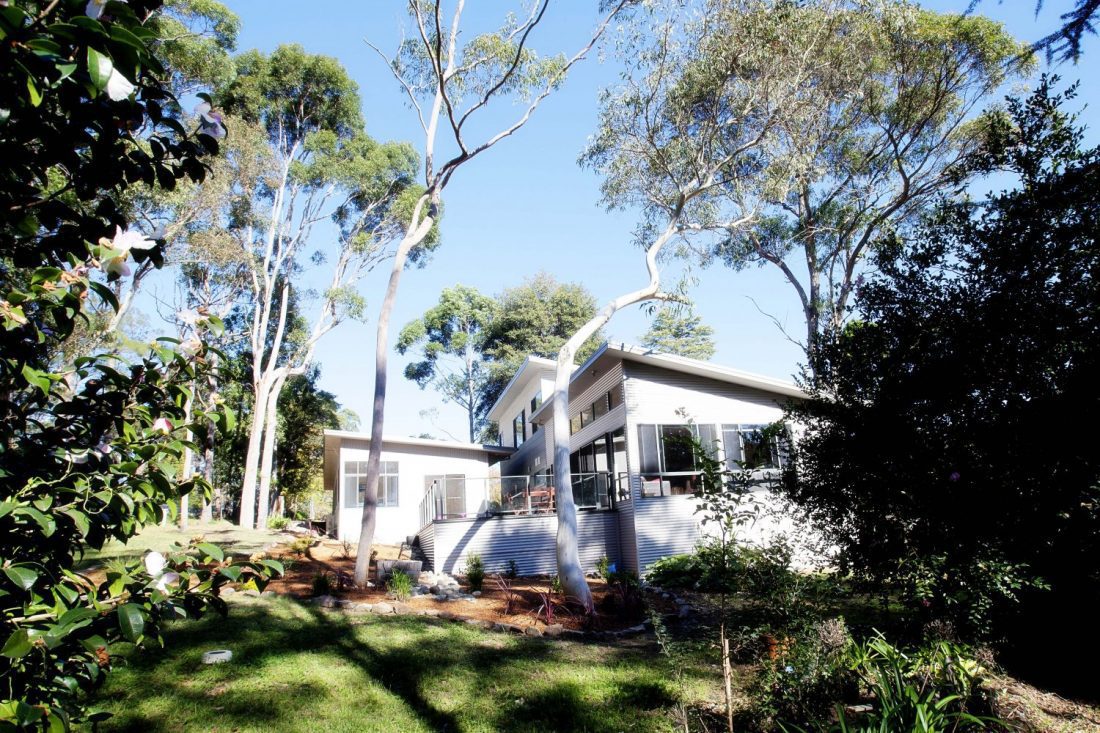 Finding sanctuary from life
A couple committed to the renewal of people in ministry
It's quiet. The loudest sound is the crunch of my shoes as I walk down the pebbled pathway.
Bordering the Lane Cove National Park in Australia is an oasis from the hustle and bustle of city life—Sanctuary House. And there is only one word to describe this place: Selah, from the Hebrew word meaning to stop, pause, reflect and rest.
For Jonathan Browning and his wife, Michelle Kay-Browning, this word is essential to their lives. And Sanctuary House was birthed out of their desire to help other people, particularly Salvation Army officers, soldiers and other personnel learn how to rest, find healing and encounter God.
"It's a necessary part of life to stop, take time out and to renew your mind, renew your heart and deliberately spend focused time with God. We need to do that to look after ourselves," Kay-Browning said. "This place is for someone who is struggling in ministry and needs a bit of time out and care."
Learning how to rest wasn't something Jonathan understood until his first wife, Amanda, died in 2007, leaving him and two sons, Jacob and Eli, now 13 and 11.
"For me, my own personal journey of restoration came through people looking after me," he said. "The restoration of the heart was a big part of my own recovery journey and the need to meet with God for that healing." Along with that, Browning said he needed space to sit down, relax and feel comfortable—a place to feel safe.
"The design [of Sanctuary House] was very much creating a place that would be safe, where people would come and just share life's journey and meet with God, but also meet someone who would just sit there and listen to you," he said. " That's my part of how the house came about."
The need to retreat
Kay-Browning shares a similar healing journey as her first marriage ended in divorce. She said she wasn't surprised to meet someone who shared her passion for renewal and restoration ministry.
"God had spoken to me for years about a husband who would have been involved in the healing process," she said. "So I wasn't surprised when I met Jonathan and inherited two boys. God prepared me for that years and years before."
Kay-Browning also had a vision for a safe space.
"Through lots of ministry, through worship and prayer, God had spoken about a place where people could come to encounter him and to Selah, to rest," she said. "So when we met it was [a case of] how do we outwork that when we have a similar passion for restoration and renewal."
A week before Jonathan and Michelle married in 2008, they signed a contract for the property where Sanctuary House now stands. Just over three years later, the shack that was originally on the property has been turned into two beautiful, modern retreat homes.
The first house is where Jonathan, Michelle and their three children [a daughter, Abbey, joined the family in 2010] live. The second house is for guests, and has three bedrooms, a kitchen, a sitting room for relaxing, reading and prayer, a training room with a piano, and a bathroom that includes a retreat spa bath.
"There's very deliberately a spa in there," Kay-Browning said. "God really put on my heart that we need to put something in there for care and well-being. It's a very deliberate thing that I think the church really needs to start to take notice of. The world [retreats] so we need to do that better than the world."
Aside from relaxing indoors, guests are welcome to venture into the tranquil national park for a walk, to feed the chickens, collect eggs, tend to the vegetable garden or sit outside and read a book.
The property epitomises the word "sanctuary" in every aspect. Kay-Browning said the name "Sanctuary House" was also a deliberate choice.
"A sanctuary is both a meeting place with God and a safe place, so that's a very intentional name," she said. "A safe place to retreat to and a holy place to set time aside to deliberately meet with God."
While Sanctuary House has only been running for a few short months, it's already hosted a number of guests including a couple of Salvation Army officers. And while the space is set up primarily for Salvation Army personnel, they also welcome anyone in ministry who needs time out.
SoulCare program
The couple developed a program called SoulCare to help guests find healing. It is not a focused structure because they recognize that every individual will find restoration differently.
"Some people want to sit here and talk; other people just want to go for a walk," Browning said. "But we start out just talking with people, letting them share the journey, and out of that conversation we might suggest books to read or reflections or some guided retreats such as meditation, to help facilitate their encounter with God."
Sanctuary House is set up for short-term stays, and at a low cost of $50 per night, Browning said they are committed to making sure every stay is suited toward the individual's circumstances.
"It might be multiple short stays for a weekend, or regular stays," he said. "I like the idea that it could be ongoing. For someone who is struggling in ministry they might need to come here every month for three days and make it part of their every intention strategy to stay in ministry and look after themselves."
Aside from running Sanctuary House, Jonathan also works for The Salvation Army as the team leader for "Welcome Home," a program focused on bringing people back to the Army. Michelle works as a teacher at Tara Anglican School for Girls in North Parramatta, running choral groups and developing worship at the school chapel. Music is her passion and she intends for worship to become a significant part of the SoulCare program.
"It's very much about personal engagement," she said. "Providing tools of worship that they can choose to engage with, whether that be reading, music or out in nature with a focus on meditation."
This article originally appeared in Pipeline.