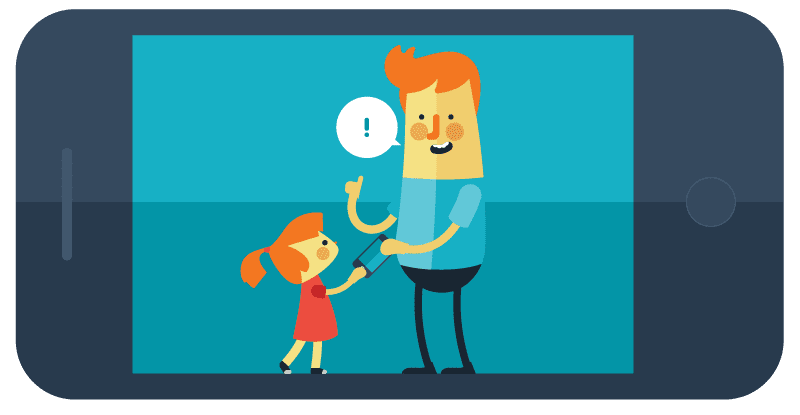 Digital parenting
Common Sense Media guides new parents through the ever-evolving world of social media.  
When Joy Mikles realized that her 8-year-old son was playing an online game that allowed for friend requests, she knew it was time to have the talk.
"I told him 'you can't play this game anymore because you don't know who these people really are,'" she said. "Those are hard conversations to have with an 8-year-old but you have to have them now."
Her son doesn't have any social media profiles, but he does enjoy online games and has his own tablet, which he uses to play learning games and read books.
"We live in an age where it is really hard to keep our children away from technology," she said. "We are fighting an uphill battle."
Like Mikles' son, 75 percent of kids under age 9 have access to a mobile device at home, according to a Common Sense Media report on Children's Media Use in America. Seventeen percent of children use a mobile device an average of 15 minutes each day.
With increasing usage among the very young to young adults—who check their smart phone close to 150 times per day, according to a study by Kleiner, Perkins, Caufield and Byers—Common Sense Media exists to help parents both navigate the ever-evolving world of digital media and guide their children in its age-appropriate use.
Generation Alpha, those born in 2010 and later, is the first to grow up with mobile technology embedded in their daily lives. Many have a digital footprint before they ever step foot in the world thanks to their parents, and the ways this could impact a child's future aren't yet understood.
It's a phenomenon that led author, attorney and child rights activist Jim Steyer to create the San Francisco-based organization in 2003 to improve the effects of media on children and families through educational resources and related policy advocating.
Perhaps best known for its rating system, Common Sense Media offers an evaluation of books, movies, TV shows, games, apps, music and websites based on educational value, positive messaging and mature themes such as violence, drug use and sexual content. The system also lists what age each product is best suited for from both a parent and child's perspective.
Its blogs, studies and educational resources further help parents, children and educators understand how to get the most out of new media without sacrificing safety and well-being, while helping parents keep up with the latest apps, websites and other media.
This spring Common Sense Media released a "Parent's Guide to Social Media," which seeks to educate parents on some of the unintended consequences of posting about their children online. As one piece of advice, Parenting Editor Caroline Knorr cautions parents against sharing photos of their children with everyone on their friends list.
"Maybe you're connected to people you barely know, and there's no guarantee that those people will have your family's best interests at heart," Knorr said. She advises creating a friends list to share photos with or only posting photos to secure sites such as Flickr or Photobucket that require a password for access. "You might love the photos of baby in the tub, but how will she feel about them when she's eight or nine."
Young parents should consider the impact of media on family time, as kids under 9 spend an average of nearly two hours a day in front of a screen. Of parents surveyed in the above, 28 percent reported that media resulted in less time spent together. Further, a Boston Medical Center study of how families at a restaurant interacted with each other when they used cell phones demonstrated that caregivers who were "highly absorbed" in their devices responded harshly to their kids' bids for attention.
Just as Mikles discovered, the social media talk arises early for parents of young kids.
Due to the Children's Online Privacy Protection Act, many social platforms require users to be at least 13 to create a profile. Yet a Consumer Reports poll found that 7.5 million Facebook users are younger than the mandated age. Rather than lie about their age to gain access, Common Sense Media suggests redirecting your child to a site like Yoursphere that is designed for those under 17. To sign up, parents must submit to a background check for identity verification and to weed out those who shouldn't be there.
DO GOOD
– Visit commonsensemedia.org for reviews of the latest in media content, the essential apps for your kids by age, age-appropriate guidelines to dealing with your digital dilemmas, and the Parent's Guide to Social Media.
– Read "The Big Disconnect: Protecting Childhood and Family Relationships in the Digital Age," (Harper Paperbacks, 2014) by Catherine Steiner-Adair.
– Review the National Society for the Prevention of Cruelty to Children's "Share Aware" guide for ways to talk to your children about internet safety.
"At Common Sense Media, we believe in starting a dialogue early with your children about using social media and continuing that dialogue as they grow up," said Alexis Vanni, a spokesperson for the organization.
To be a good digital citizen, do and say things online that you would do and say in person, and keep private information like a home address or current location offline.
Beyond privacy protection, Knorr said a rising concern for parents of young online users is cyberbullying—the "willful and repeated harm inflicted through the use of computers, cell phones, and other electronic devices." Roughly 25 percent of middle and high school students across studies by The Cyberbullying Research Center said they have been the victim of cyberbullying at some point in their lifetime, and 16 percent said they had cyberbullied others.
Though the benefits of today's digital tools are abounding, dangers do exist. The best way to stay up to speed on your child's media use is to maintain an open dialogue and be a friend and follower.
When Mikles son showed interest in cell phones, having seen his parents use theirs, she gave him an old one that no longer had cell service but that can be used to play games.
"We set parameters around when and how to use it and emphasize that we prefer face-to-face communication," Mikles said. "Hopefully our use of media has shown him that it all is a way to connect to other people."