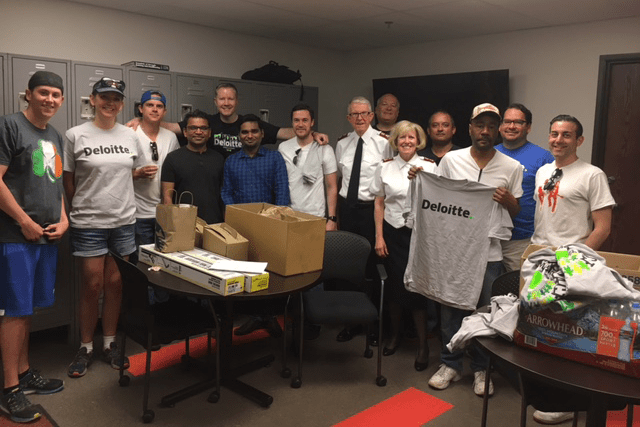 Deloitte helps out in Denver
Volunteers assist with renovation of Emergency Services Center.

Fifteen Deloitte employees volunteered at The Salvation Army Intermountain Division Emergency Services Center (ESC) in Aurora, Colorado, where they spent the day painting lines on the warehouse floor of the newly renovated and expanded facility.
"Volunteers are the heart of our organization," Major Donna Hood said. "We are grateful to Deloitte and their entire staff for taking the time to give back to their community. Their dedication and hard work helped us save a ton of money."
The lines on the floor are important for safety reasons but there was no money in the budget for this safety upgrade. Deloitte supplied 15 gallons of paint at $50 a gallon, and manpower to do the work.
Renovations to the 50,000-square-foot center began two years ago, after Divisional Commander Lt. Colonel Daniel Starrett observed a gap in the division's capacity to house and maintain divisional emergency services response vehicles and supplies, and to adequately support corps community centers and social service programs. The new ESC addresses these concerns.
Located in the Denver Metro region, the ESC supports the division with its warehouse, administrative offices, conference rooms and the divisional Emergency Operations Center (EOC). Its emergency response vehicles stand ready for immediate deployment, stocked with food products, home cleaning kits, hygiene kits and other supplies.
The center will continue to serve as a training facility for Emergency Services volunteers and staff. In addition, the center offers an annual two-month warehousing and logistics training program for 20 individuals from the Harbor Light Center.
With the additional space, the Intermountain Division plans to expand use of the EOC for response and recovery, from serving as an organizational center for Salvation Army personnel, to providing VOAD networks in the division with a place to work alongside one another, to providing a backup location for divisional government partners experiencing failures within their municipalities. The installation of a 450-kilowatt generator will power the complete facility for over a day and a half in the event of utility disruptions.
The Salvation Army Intermountain Division is thankful to its donors and partners, including Deloitte, who helped make the renovation possible.
Deloitte provides outside auditors for The Salvation Army, helping the Army maintain its commitment to accountability. Over the years the partnership between the organizations grew, encompassing more than the Army's fiscal health. Deloitte embraces the Army's mission and takes every opportunity to further it through its volunteer activities throughout the Army world.