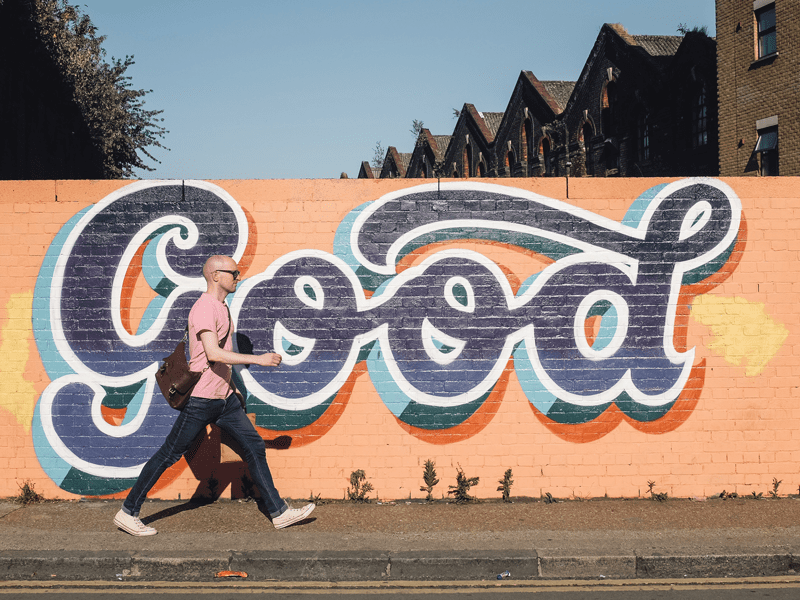 10 best public art projects for community good
"Creativity is contagious. Pass it on." – Albert Einstein
When creatives and artists decide to make the community more beautiful or spread a message that we need to hear, we can't help but join in, either through watching, helping or sharing it with others. It takes courage to put art out into the world, but when it's crafted with intention, it can be a transformational experience for everyone involved. Art brings people of all backgrounds together and inspires change. Public art projects for communities can help struggling youth get involved in their neighborhood, invite people to have fun outside on a rainy day, or simply remind us all to be kind to each other.
These are 10 public art projects that all inspire us to do good.
The Global Angel Wings Project by Colette Miller
The Global Angel Wings Project from Colette Miller, featured in the Caring Spring 2016 issue, was created in Los Angeles in 2012 to "remind us that we can all be the angels of this Earth." You can now find them painted on walls throughout the world.
Envelope Exchange by Craftspace  
The Envelope Exchange embraces the idea of simple acts of kindness. In each envelope, a nice message is written to encourage you and bring light into your day. In exchange, you leave behind an uplifting message for someone else.
Rainworks
When it's raining, we're often reluctant to go outdoors, but Rainworks wants to change that by making you look forward to the rain. When rain falls, positive messages and artwork appear in select places. Your gloomy day can turn into a scavenger hunt adventure. The best part? You can make one yourself.
School-wide bottle cap mural

Meri Cherry, a teacher in Los Angeles, took teaching students about the ocean to the next level with a school-wide bottle cap mural project. Inspired by the book, "Bottlecap Little Bottlecap," 208 students from kindergarten to sixth grade worked together using 10,000 bottle caps to create an ocean mural. They learned new hands-on skills and the importance of helping the environment.
Before I die…
What do you hope to accomplish before you die? The global "Before I die…" community art project invites you to share your answer to just that. Candy Chang started this movement in New Orleans after the death of a loved one and it has since spread across 75 countries. These creative walls, pictured here in San Francisco, speak to our humanity and help us reflect on life and death.  
Rethink Waste
In Deschutes County, Oregon, the Project of The Environmental Center created The Rethink Waste Project to raise awareness for reducing waste and recycling. Their "Rethink Waste" display, put together by local youth groups, is available for community display and is made from commonly wasted goods.
Inflatable refugee
To bring awareness to the European refugee crisis, Belgian artists Schellekens & Peleman created a larger-than-life inflatable refugee to sail the world. The male figure's size represents how society views him and sparks conversation with those who encounter it.
GrowGood community garden
GrowGood is a community garden in Bell, California, which partners with The Salvation Army Bell Shelter to provide work opportunities and supply food for the residents. Its mission is to "[create] a community that will thrive through pride of work and belief that farming and healthy food is total nourishment for the mind, body, and the soul."
Urban Artworks
Based in Seattle, Urban Artworks partners with local youth to create inspiring artwork. Through after-school programs and a summer program, Urban Artworks allows youth to participate and unite with the purpose of completing a art for the community. One of the most recent projects was beautifying signal boxes throughout Downtown Seattle.
Happy City Birds project by Thomas Dambo
Bird enthusiasts can rejoice with the Happy City Birds project from artist Thomas Dambo. He provides beautiful homes for birds and wildfire out of recycled materials. He started the project in 2006 and has since placed more than 3,500 bird houses.
---
Do Good:
Research one of these art projects or dream up your own to create in your community.
Visit a local museum or outdoor garden to take in and appreciate the art near you.
Listen to Mihaly Csikszentmihalyi's TED Talk, "Flow, the secret to happiness," on finding your flow in the midst of what you enjoy and where you have skill.
Head to your local art store and wander the aisles until you are inspired to paint, draw, sculpt or otherwise create.