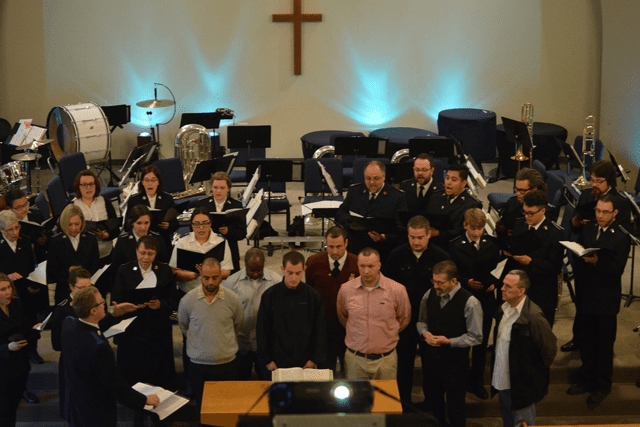 Charis Place dedicated
Seattle Temple dedicates sober residence for ARC graduates

The Seattle Temple Corps dedicated Charis Place, a clean and sober residence for male graduates of the Seattle Adult Rehabilitation Center (ARC), Jan. 7.
An 18-24 month transitional living house, Charis Place residents work with a caseworker on budgeting, goal-setting and personal issues while attending regular Alcoholics Anonymous or Narcotics Anonymous meetings. While maintaining outside employment, they readjust to meeting their own daily needs and addressing financial responsibilities in a community of accountability.
"The most important aspect of Charis Place is that it is fosters spiritual growth and seeks to solidify the relationship between the men and The Salvation Army as their church home," said Major Amy Reardon, Seattle Temple Corps Officer with her husband Major Rob Reardon. Participants attend Sunday school and holiness meetings, and are discipled by the Reardons in private meetings.
Resident Manager Doug Jeck, an adherent at the Seattle Temple, holds house meetings with Bible study, often emphasizing to the men that God isn't only interested in their sobriety, but also their sanctification.
At the corps, Charis Place residents have participated in the weekly meal provision at a homeless encampment, run the sound system, shared their testimonies in the holiness meeting and helped with the Christmas effort. They took the initiative to establish a new AA meeting at the corps, which is open to the public.
Though the program opened June 29, 2016, the dedication of the building was delayed until it was named. A participant suggested "Charis Place," as "charis" is the Greek word for grace.
"One of the things that inspired him was a piece in the Songsters' repertoire, 'A Place for Healing Grace,' Rob Reardon said. "The name, and even that song, perfectly describe what's going on there. It is a place of healing grace."
In late December 2016, the official Charis Place sign was delivered and mounted.
Reardon explained at the dedication how the vision of a sober house became reality. The men of Charis Place stood at the holiness table while the Songsters gathered around them and sang the song that had inspired the name. Amy Reardon prayed over the men, emphasizing that
all people are in need of God's grace.
Following the service, the men proudly hosted an open house.