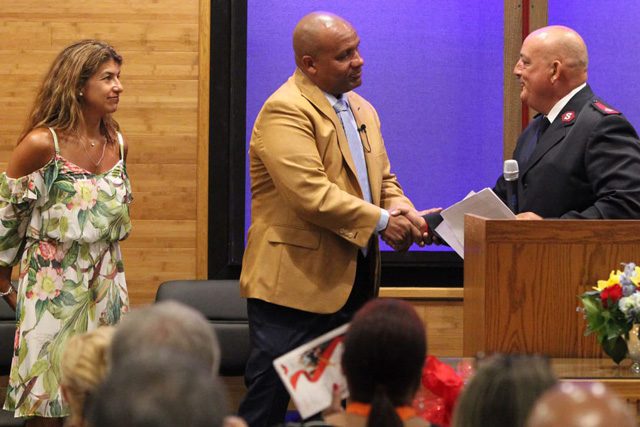 Browns Coach Hue Jackson and The Salvation Army fight trafficking in Cleveland
The Salvation Army of Greater Cleveland raised over $200,000 at its annual Civic Luncheon—funds that will be used in part to combat human trafficking across the region.
Human trafficking has become a growing epidemic in Ohio, which ranks in the top five in the nation in reported human trafficking cases. And many across the state are taking note.
Cleveland Browns Head Coach Hue Jackson and his wife, Michelle, launched the Hue Jackson Foundation in early July 2017 and quickly established a relationship with The Salvation Army. The Jacksons were this year's event co-chairs, as well.
In July 2018, The Salvation Army opened the Hue Jackson Foundation Survivors of Human Trafficking Residence located within the Harbor Light Complex in Downtown Cleveland. The space provides a safe environment for up to 12 recovered adult women survivors of human trafficking. It offers holistic services, and provides shared office space for law enforcement, healthcare, and social services providers, to help assist the survivors on their road to recovery.
The Salvation Army of Greater Cleveland now has a total of 18 dedicated beds between their Harbor Light Complex and Zelma George Family Shelter for recovering victims of human trafficking.
"We are able to give women a second chance at having their lives back with the opening of this new residence. These 12 new beds will change lives, and for that we are thankful to have great collaborative partners like the Hue Jackson Foundation," said Beau Hill, Executive Director of The Salvation Army Harbor Light Complex.
Major Thomas Applin, Divisional Secretary of Greater Cleveland Area Services, raved about the community engagement for both the opening of the new facility as well as the civic luncheon.
"I am truly grateful for the way our local community, community partners and corporate partners continue to believe in and support the work that we do every day at The Salvation Army," he said. "We strive to build a better, safer, and stronger Greater Cleveland through our programs to help those most in need."