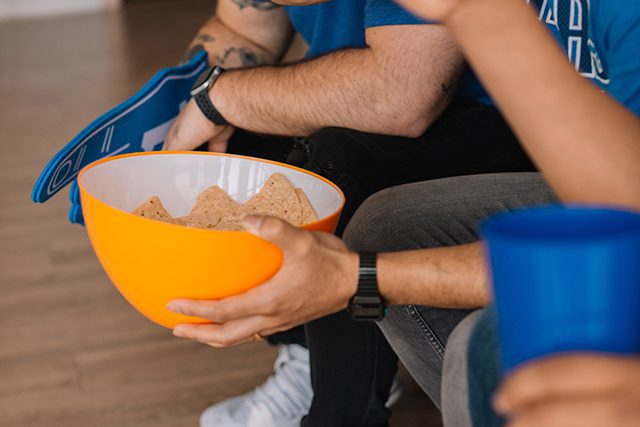 As more states legalize sports betting, problem gambling concerns arise 
Leaders in The Salvation Army identify need for raising public awareness.
By Caitlin Johnston – 
To many, it seems innocuous: watching a football game with friends. 
It's certainly not on the same level as driving 30 miles to a casino or calling up a bookie to place a bet; at least, that's what people tell themselves.
But when the Supreme Court struck down a federal ban on sports betting last year, experts in the field worried the number of people with gambling addiction could soar to new levels. Such a boom could leave service providers like The Salvation Army scrambling to help those who need it most.
The first year after the ban was lifted did not see a meteoric rise in cases of problem gambling, said Josh Ercole, the executive director of the Council of Compulsive Gambling of Pennsylvania. 
But as more states move toward legalizing sports betting, the number of people who have access will continue to increase. 
"Now you can be at buddy's house watching a game and start placing prop bets on an impulse," said Robert Jacobson, executive director of the California Council on Problem Gambling. "It's much faster to develop a problem because you're not physically driving to a casino, you have access to that phone 24 hours a day and you can simply lose track of how much that credit card bill is."
Sports gambling is legal in 13 states, and close to two dozen have some sort of sports wagering bill under consideration. Meanwhile, apps such as FanDuel and DraftKings are becoming more and more popular, with advertisements on TV and online becoming more frequent.
That means access to sports betting for the average American is only growing. And gambling addiction experts say increased access is the single greatest factor contributing to increased instances of gambling addiction.
"Generally, an increase in access leads to an increase in participation, which generally leads to an increase in problems," Ercole said. "If no one can get to a casino or access sports betting, you're not going to have problems. But the more available it becomes, the more people you're going to have doing it."
Studies show that about one to three percent of the adult population experiences problem gambling. If only 100 people are able to access sports betting or drive to a nearby casino, that means only one to three people are likely to develop a problem or addiction. 
But if the number of people who have access to gambling rises to 1,000 or even 1 million, then treatment centers are looking at 30 to 30,000 people who might need services.
That potential jump in people searching for help with an addiction has caught the attention of leaders within The Salvation Army.
Avery Chamlis, program director for the Western Territory's Adult Rehabilitation Centers Command, said it is on the radar of leaders within the organization who provide addiction services. Already, they are working with other groups, such as Gamblers Anonymous, to understand the risks and try to get ahead of the problem. 
"We do devote specific time on gambling and its effect on the brain," Chamlis said. "It's very similar to the effect of stimulants. It's highly addictive."
But acceptance of gambling as an addiction and research into its effects is relatively new to American society, Jacobson said. For the most part, he said, gambling really only became part of the culture in the last 20 years. In 1975, only a handful of states allowed gambling, such as poker and the lottery. Now, 48 states legalized some sort of gambling.
"Prohibition was repealed in 1933," Jacobson said. "Think about 1953—what did we know about alcoholism? What did we know about someone who spent all night at the bar? What did we think of them?
"We haven't had those public campaigns about gambling yet," he said. "All of those same stigmas are associated with gambling addiction, but there's a lot of lack of understanding and knowledge."
That's why Jacobson stressed the importance of service providers like The Salvation Army not just being prepared to treat people but being actively involved with raising public awareness and leading campaigns.
"Any type of public messaging is valuable because it educates people that gambling is a disorder largely the same as drugs and alcohol," Jacobson said. "What that means is it's not a personal failing, but it is something you can go seek help for."
Nationally, 40 states spend public money to help problem gamblers. On average, those states spend 37 cents per capita on the cause. But that means 20 percent of states don't have any funding at all, Ercole said.
If groups that have a high profile and visibility, such as The Salvation Army, start to talk seriously about gambling and the effects it has on individuals, families and communities, that could go a long way toward motivating both legislators and service providers to devote more resources to the problem, Ercole said.
That's one area in which The Salvation Army in New Zealand has seen success, said Lt Col. Lynette Hutson, director for the country's addiction services. 
"We're speaking out against it and we're using the fact that we're contracted for public health work to speak on behalf of the public," Hutson said. "We speak to community groups, we go to large festivals, cultural events and we promote the safeguards we need to put in place around gambling."
Being a large organization in a small country sometimes helps, Hutson said, especially when trying to communicate with elected officials and bring about legislative change.
"When we speak up about something as The Salvation Army, we do get attention," Hutson said. "We have the daily evidence from the front lines to say, 'You might think this, but here is what's really happening to people…You're talking from the ground, sharing research-based evidence."
In addition to working to spread awareness within communities and political circles, Jacobson also encouraged The Salvation Army to include questions about gambling on mental screenings and intake forms.
Chamlis, too, acknowledged the importance of adding gambling to the center's intake forms. Right now, he said the list of substances includes things like pornography and sex, but not gambling.
"We don't really track how many people identify a primary or secondary addiction to gambling," Chamlis said. "It wouldn't be that hard to do."
Chamlis said most of the Adult Rehabilitation Centers in the West operate around 90 percent capacity, following significant restructuring this year. That means there is room to accommodate and treat patients, should the states see a rise in cases of gambling addiction as access continues to expand.