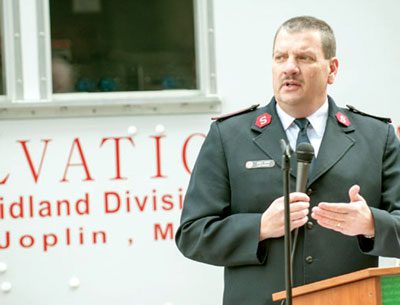 Army receives needed mobile canteens
New vehicle is donated just in time for tornado season.
Beacon Roofing Supply donated a $100,000 mobile canteen to The Salvation Army of Joplin, Mo., just in time for tornado season, which started in March.
Stationed in Joplin and equipped with two microwaves—which convert to conventional ovens—refrigerators, sinks, and multiple stacks of warming trays—this full service kitchen on wheels has the ability to serve 1,500 meals per day to survivors, first responders and volunteers during times of disaster.
In the aftermath of the devastating tornado that hit Joplin on May 22, 2011, The Salvation Army of Joplin provided relief to tornado survivors with a canteen that was shared with the Springfield and Branson areas. Dave Evans, advisory board member for The Salvation Army, said that this new donation will shorten response time to the surrounding areas.
"It is a tremendous asset to us to have this here because Jasper County has the highest annual average of tornadoes," Evans said. "We can be on the ground and responding as quickly as possible to people in our own backyard."