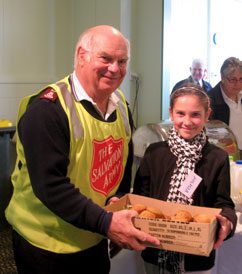 Army in action after New Zealand quake
The Salvation Army continues to meet the needs of earthquake victims.
Emergency Services coordinator Major Rex Cross receives some baked muffins from Harriet, who brought her baking in to help those being cared for at the Addington Raceway Welfare Centre. Photo by John Gardner
When a 7.1 magnitude earthquake struck the South Island of New Zealand on Sept. 4, 2010, The Salvation Army got to work—within hours feeding around 1,000 people in at least two Christchurch locations and preparing to set up operations wherever needed. The quake was centered 30 km west of the major city of Christchurch.
Although this region, lying at the southern end of the Pacific Ring of Fire, is earthquake prone and has good preparedness and response systems, the Canterbury quake—as it is now known—was perhaps one of the largest earthquakes to strike New Zealand since 1931. Prime Minister John Key reported that it damaged almost two-thirds of the 160,000 homes in and around Christchurch.
Commissioner Don Bell—Western Territory officer serving with his wife, Commissioner Debi Bell, as territorial leaders in the New Zealand, Fiji and Tonga Territory—said, "We're extremely fortunate that this earthquake struck during the night. If this had happened a few hours later, with people and cars on the streets and in businesses, we would have been looking at many injuries and likely loss of life. We are also fortunate that the weather in Christchurch is good, which is making work easier for police and other emergency response workers.
"No matter how prepared a nation is for an earthquake, there is always great fear, anxiety and disruption of life afterwards. Many people have lost possessions and their housing is not secure. We are praying for these people and for those who are helping them cope, including our own people on the ground," Bell added.
Recovery moves forward
Currently The Salvation is well into the second phase of recovery, with a fresh team in Christchurch to assess and respond to the mid-term need of affected residents. Emergency Services staff and volunteers continue to provide emergency aid and care at the city's welfare centers and Salvation Army centers. The Salvation Army team is also arranging storage for food and goods donated by companies.
With the damage and disruption caused to many Christchurch businesses, The Salvation Army expects a large number of workers will lose income and their families will need support, according to Salvation Army spokesman Major Robbie Ross.
Community spirit is strong in Canterbury and they've received strong support. New Zealand companies and banks have provided significant quantities of food and household items and funds. Westpac Bank in New Zealand has committed NZ$1 million to the Westpac Canterbury Care Fund, naming The Salvation Army as its senior partner. The Salvation Army will use some of the money to help those needing food, shelter and care, and put the rest towards those needing longer-term support. The public has also generously donated $34,000 (as of Sept. 7) to the earthquake appeal.
In setting out the logistics and protocols around the provision of aid, The Salvation Army in New Zealand is borrowing from the experience of the Australian Salvation Army during the 2009 bushfires.
Donations to the recovery may be made at salvationarmy.org.From Salvation Army emergency news reports