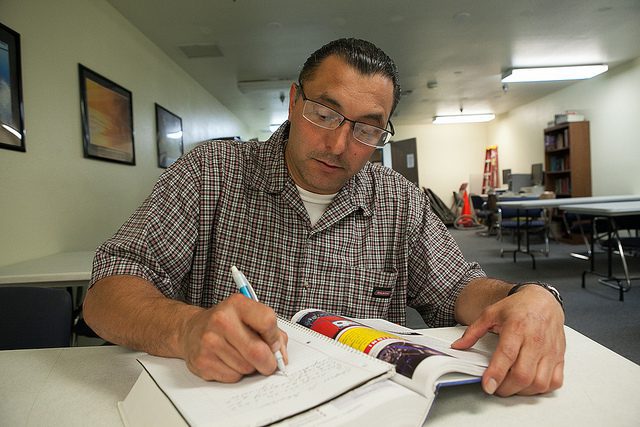 Addiction education workshops launching across West
ARC Command wants corps communities equipped to support recovery.
By Derek Linsell – 
Each year The Salvation Army Western Territory dedicates over $150 million to the recovery of addiction in its 23 Adult Rehabilitation Centers (ARC), and now it's turning to education to further strengthen the success of those in recovery.
ARC beneficiaries learn about the physiological, psychological and spiritual elements of recovery and the path to holistic wellbeing in the six-month residential program. They learn about the short and long-term effects of drugs and alcohol on the brain and the body, and the importance of a strong support network to avoid relapse.
"Education equals empowerment. At the ARC, we are equipping recovering addicts with the skills and knowledge to re-enter society and maintain control of their addiction and subsequent independence," said Major Man-Hee Chang, the West's ARC commander. "Yet, often addicts return to environments where those around them aren't equipped with the same level of knowledge and understanding to support the recovery process."
And so the Western Territory is launching four training programs to educate members of The Salvation Army on addiction and prevention.
One program targets corps officers and soldiers in a three-hour facilitated workshop about the ARC program, its success rates, and how it differs from mainstream rehabilitation centers. The workshop provides information on the latest drug trends and usage statistics, the nature of addiction, recovery and the challenges that face so many in our community. Beneficiaries speak about their experiences and the dangers of stereotyping, and participants are encouraged to ask questions and share experiences or concerns in dealing with addiction.
The workshop covers barriers to corps integration, and methods for initiating and maintaining constructive relationships with beneficiaries. Corps members learn that some helping behaviors can be detrimental to the recovery process of an addict, and discuss alternative methods for providing support, particularly listening and connections to employment and housing.
The second education program is a two-hour workshop for family members and friends of those dealing with addiction. It introduces The Salvation Army and the ARC, so participants can better understand the spiritual journey of recovery and allows an opportunity to meet others who are going through a similar experience. Participants can voice concerns, express anger, share fears and offer support. Some time is spent learning about the nature of addiction and recovery, yet the focus is more targeted toward rebuilding relationships, the dangers of enabling, and the importance of being able to detect signs of relapse.
Programs three and four target young people.
"As Christians, we must never be naive about equipping our children to face the evils of our world," said Major Isobel Robinson, who attended the pilot workshop for teens. "After all, Jesus told us in the Gospel of Matthew that in the world we should, "be as shrewd as serpents and as innocent as doves" [10:16]. This teaching tool is an excellent means for helping teens present a defense to the drug culture that saturates every level of today's society."
One workshop for ages 14-17, explores the different drug types and their effect on the teenage brain. The facilitator guides discussion around the dangers of binge drinking and illicit drug use, including prescription medications. Teens are prompted to think about the social pressures that young people experience related to drug and alcohol use. As a group, participants explore ways to combat peer pressure and make healthy, informed decisions.
And finally, a workshop for those 18-12 also looks at different drug types, statistics regarding usage and dangers to the developing brain. In addition, this workshop examines the dangers associated with driving under the influence of drugs and alcohol.
Pilot workshops took place between April and November 2013. Over the next six months, corps in the Western Territory will begin offering them.
____________________________________
If you are a corps officer interested in being accredited in this training, please contact info@apricotconsulting.us.