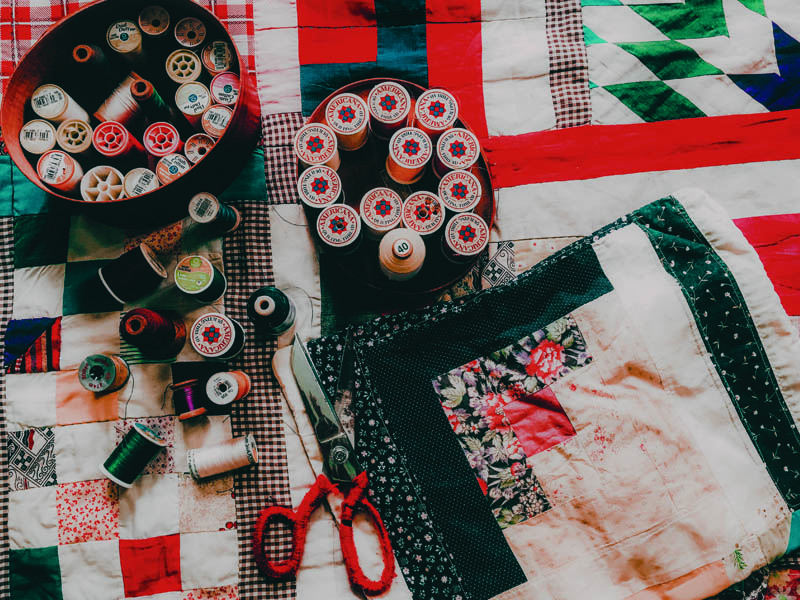 A simple landmark of home
Handmade quilts serve as empowerment for women in recovery.  
When Barbara Kelly heard about The Salvation Army Adult Rehabilitation Program (ARP) in Chico, California, during a yoga class, she decided to encourage the women seeking treatment there the best way she knew how—by sewing them colorful quilts with prayers and messages of empowerment embroidered in them.
"I thought this recovery center was absolutely wonderful. I wanted to do something positive," Kelly said. "I'm an avid quilter. It's something that I believe in…There's comfort within a quilt. It was something that I could do that spoke action."
After approaching Jodene Setera, Chico ARP office manager, with her idea, Kelly turned to her fellow quilters for help. She recruited volunteers from her local Annie's Star Quilt Guild and Sew Sisters group in Chico, as well as other quilters outside the area.
Since starting the project, they've made 20 quilts for the women in the ARP, with more to come. When  Kelly and her friends delivered the first 15 quilts to the women, it was an emotional experience for everyone.
"They were so so excited. They were touched that other women cared about them as women. They realized the significance of something that was made with love," Kelly said. "They started sharing stories with me about how their grandmother taught them to sew, how they have a sewing machine, or their grandmothers had given them quilts."
Setera said the quilts left a lasting impression on the women at the ARP.
"A lot of the women hadn't really considered before how monumental a quilt for their bed would be because they have been homeless and displaced for so long," Setera said. "They hadn't really considered what a landmark that was to have someone provide that for them, and for them to be able to take something away from the program to set up their new home."
The quilts are all different designs and colors, and have encouraging messages stitched into them. One of the quilters even made what she called a "companion quilt" out of the same design with the extra remnants for herself, so she could continue to pray over the woman who received her quilt.
"It was just a powerful connection, as women were sending these healing thoughts through their artwork," Setera said.
Major Ray Yant, Chico ARP Administrator, said that the quilts have a unique impact on the women as they get to keep their quilt after graduating the program.
"A lot of people had nothing when they came here. When they leave, they have their dignity, their respect and now they have a wonderful quilt that was made by an individual who wanted to help somebody," Yant said. "When they're laying down at night and they're under the covers, that's their security blanket knowing, 'Hey, I've accomplished something. I've made it.'"
This is exactly how Sandy Nethington, who graduated the Chico ARP in July, felt when she received her quilt.
"Taking it home is just a reminder of where I was and what I've done, and every day I get to use it and it takes me back to what I've had to do to get to where I'm at right now," Nethington said.
Kelly hopes the program expands to where the women can also learn to make their own pillowcases or quilts. Ultimately, she wants them to feel supported.
"I hope they feel that the community outside of where they are cares and loves them and wishes them well," Kelly said. "I think they are brave women to realize, 'Wait a minute, I need help, and this is not the life I want to lead.' It's courageous to do that, and it's not easy."