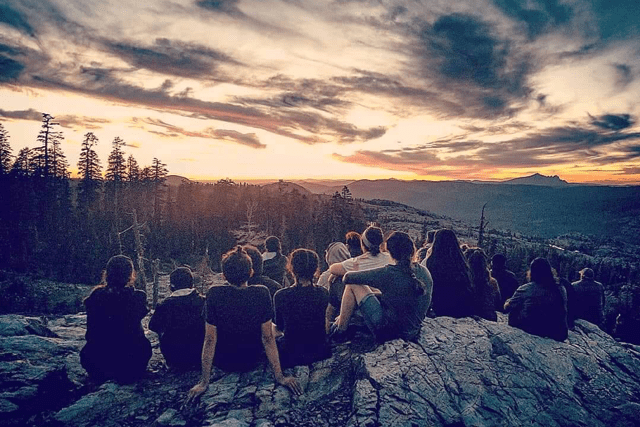 A model for success beyond camp
'Leadership Pipeline'
"What do I need to do next, Lord?"
That's the question that led Ed Covert to build a new leadership path not only for himself, but for generations to come.
After the first 15 years of his more than 30 years of service running camps for The Salvation Army, Covert found that little emphasis had been placed on succession planning. During a trip back to school to obtain a graduate degree in evangelism and leadership, he happened upon a book called, "The Leadership Pipeline," which he thought could be adapted into a camp framework with, perhaps, wider applications.
"I wanted to ensure a continuity of vision and approach," he said, "while also creating opportunities for youth who have had good camp experiences to lead."
As of 2016, more than 230,000 children participated in U.S.-based Salvation Army summer and day camps annually.
Covert currently serves as the Executive Director at The Salvation Army Redwood Glen Camp and Conference Center in Scotts Valley, California, where he's had the opportunity to see a number of young men and women flourish as they've transitioned from children to teenagers to staff members with his mentorship.
For Amber Grgich, working with Covert in this way has opened doors—and allowed her to dream big.
"Over the last six years, I have been moving through the leadership pipeline without knowing I was," she said. "Not because I am oblivious, but because that is the whole point: growing in leadership should feel natural. It should be a stretching experience, not a forced or rushed experience."
She added that in the past, she's seen people sometimes enter into roles they aren't ready for and spend their days struggling to keep up. The pipeline module is designed to help solve that by providing clear guidelines and a common language that can be used as leadership candidates move between the seven levels. They can always see exactly where they are, and if they are foundationally ready for the next step. Grgich, who joined the staff as a program director in 2012, recently moved from level five to level six, and became the Assistant Camp Director alongside Covert. She also helped him build an internship program, which is available for those serving in levels three and four. At level four, candidates have the opportunity to become full-time staff members.
"I have seen myself become more of who God made me to be through this pipeline," Grgich said. "I have allowed myself to fall fully into this and I have found the freedom to both embrace the craziness that is camping ministry and feel completely in control."
Covert's "Leadership Pipeline" at camp starts with the camper. From there, level one is designed for those who want to join the S.U.R.F. (Service, Unity, Redemption, Faith) five-week program, which is for 14 and 15-year-olds who desire to live a deeper faith in Jesus and grow in leadership.
It's an important transition, Covert said, because "some growth has to happen as we try to help them navigate how to leave behind the rights and privileges of being a camper as they consider becoming a staff member."
Participants in S.U.R.F. experience life at camp with campers and staff, go on a week-long backpacking trip in the High Sierras, learn more about what it means to be a follower of Jesus, and hopefully, make lasting relationships with other like-minded individuals. The program is capped at 12 (half male and half female) participants so they'll have maximum opportunity to work with a more mature leader to help guide them in their discipleship.
Each level of the pipeline has specific spiritual, social and emotional pillars as well as tactical or cultural leadership skills to be mastered as a candidate moves through the pipeline journey.
The culmination at level seven is executive leadership, though that's not necessarily the goal for everyone, Covert said. The goal is to set people up for success, regardless of their level of achievement, and to prepare them to mentor the next generation of leaders themselves.
"Ed believes in and wants the future of camp to be rich and life-giving," said Grgich. "I want the same things. The pipeline is a map, and I know how to read it and navigate it, so I can help propel others into a new level."