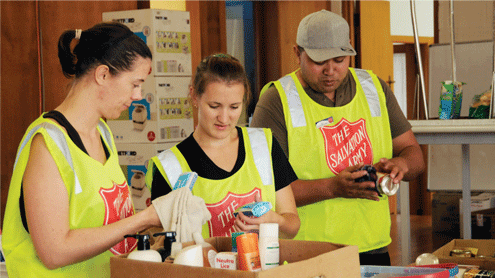 A day in Christchurch
Commissioner Don Bell reflects on the damage in New Zealand.
By Don Bell, Commissioner
Western Territory officers Commissioners Don and Debi Bell currently serve as territorial leaders for New Zealand, Fiji and Tonga. They are based in Wellington, New Zealand. On Sunday, Feb. 27, Commissioner Don Bell traveled to Christchurch to assess the damage from the magnitude 6.3 earthquake of Feb. 22, and to come alongside Salvation Army officers, soldiers, volunteers and the people to whom the Army ministers.
Arriving at Christchurch Airport, I observed long lines at the departure gates—clearly, people wanted to leave the area.
Some waiting to depart were refugees to this country from places like Iran; these people would now be relocated to Wellington and Auckland in order to make room in government housing for the up to one-third of the local population who will not be able to return to their homes.
The Salvation Army's divisional headquarters, Christchurch City Corps, Hope Centre and many homes—including that of Majors Clive and Leslie Nicolson—are damaged. Collapsed buildings are everywhere, with the extent of damage far greater than the September 2010 earthquake. At this time, over 200 residents are still missing.
Despite the destruction, people throughout the city continued to worship, even though many feared entering any building. As we travelled to Linwood and Sydenham, we saw services being conducted in the open air.
Prime Minister John Key, Minister of Social Development Paula Bennett, Labor leader Phil Goff, and Governor General Anand Satyanand visited Salvation Army locations. Each thanked the Army for its work.
I shared with our workforce that Salvation Army leaders, officers, and soldiers from around the world are standing with us in prayer. General Shaw Clifton wrote: "We remain committed to uphold you all in prayer and in practical ways…how proud we are of the Salvationists. Tell them so, and thank them for me. Please assure them of our love in Christ and our constant prayers."
In John 14:27 Jesus said, Peace I leave with you; my peace I give you. I do not give to you as the world gives. Do not let your hearts be troubled and do not be afraid.
We cannot understand why disasters take place but we can find peace as we trust in our Savior for the days ahead.