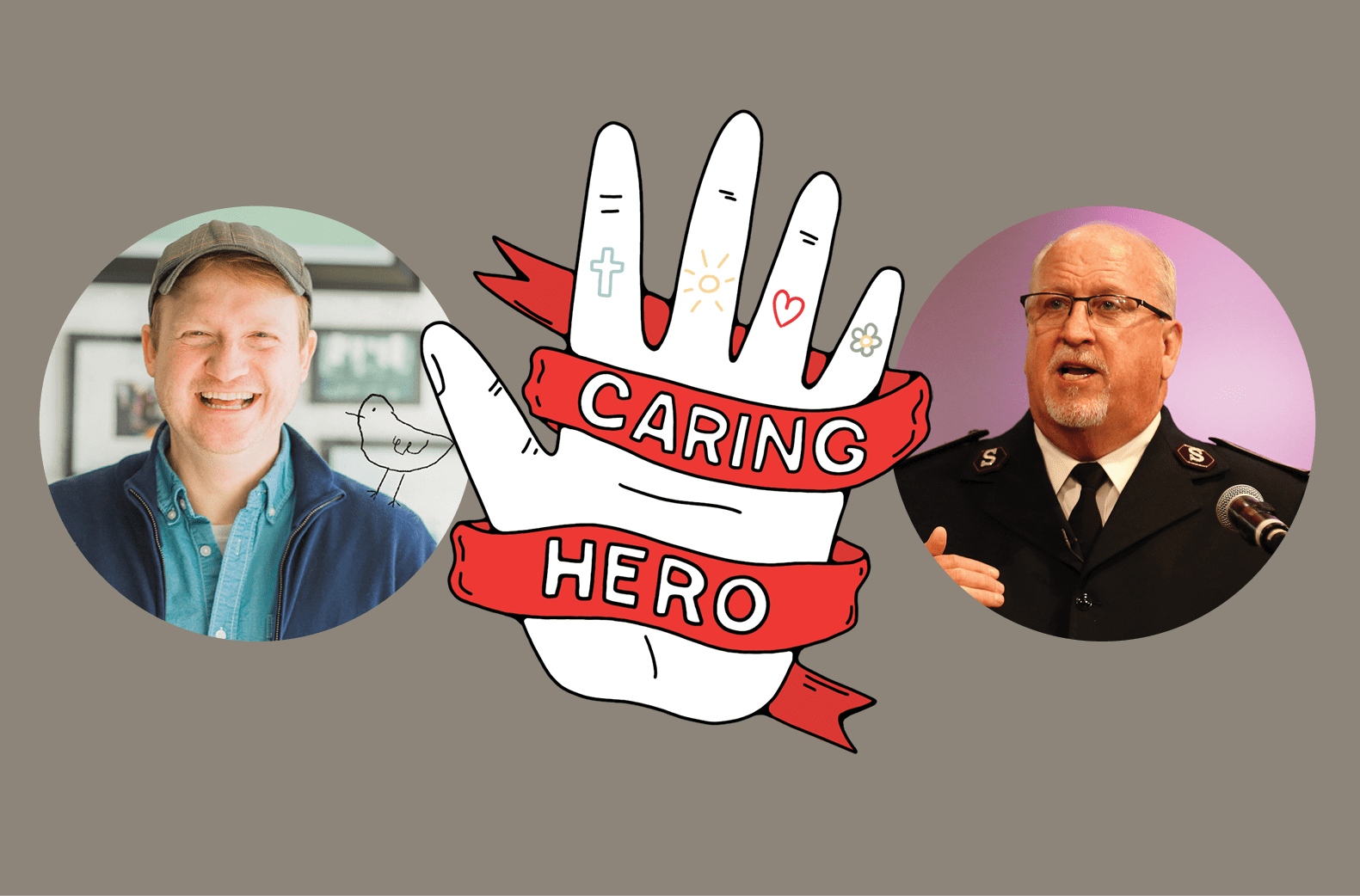 87: 'Love changes everything' from the 2021 Caring Hero Awards
If you've kept an eye on any of the longer-than-usual lead up to the Summer Olympics, you've seen some world-class displays in hurdles, dismounts and freestyles
And while those competing in Tokyo are impressive, we felt the list of medal-hopefuls was missing some names. 
That's because we're not after the best in track and field, gymnastics or swimming. We're watching, of course, but when we look toward the podium, we want to give the award to the best in caring.
The past year and a half brought tragedy. It tested us all. But, it also brought countless examples of hope and sacrifice. We saw brave Salvation Army officers, staff, volunteers and friends continue to serve and show care in their communities in ways big and small. 
We're designating these incredible individuals—nominated by you!—our Caring Heroes. And, as a small gesture of respect and gratitude, we honored them in a live virtual awards ceremony July 23.
The one-hour event included an introduction to Bill and Linda Vanecek, Caring Heroes who give their time every week to make sure people who need it receive food. They shared with us why they serve and what "caring" means to them.
We named the 2021 Caring Heroes—the brave, compassionate, passionate, uplifting, caring members of our communities. And their introductions featured videos from many of those who nominated the awardees, which added a special touch. 
We were inspired by Brad Montague, New York Times bestselling author and creator of Kid President. He spoke about encouraging people who encourage the entire world, describing the "messy middle" that exists between youthful optimism and grownup cynicism and how every human simply wants to be loved. 
His illustrated talk even included a poem of his that was recently made into a book of the same name, "The Circles All Around Us," which describes the ripple effect love can have on those around us. 
As he said to the Caring Heroes: "You don't see problems, you see probortunities. When you see people, you see someone to love."
And we were encouraged and challenged by The Salvation Army's Western Territorial Commander Commissioner Douglas Riley. He thanked the awardees for "loving people who need it—whether they know it or not."
And on this episode of the podcast, we're bringing you his message along with a song by Matt Woods, with accompaniment by Jill Ulmer, titled "Love Changes Everything." 
As the song goes: "Love will never let you be the same."
Enjoy this clip from the awards show and then watch the full replay, including the unveiling of the 2021 Caring Heroes.
To each of you: Thank you for the good you are bringing to the world around you, for the love you are showing and the way you are caring for your community.
Listen and subscribe to the Do Gooders Podcast now. Below is a transcript of the episode, edited for readability. For more information on the people and ideas in the episode, see the links at the bottom of this post.
* * *
When you look around, it's easy to see the issues at hand: addiction, hunger, homelessness, disasters of various kinds.
And yet … and yet … love is there, too.
In each of our communities, I'm so proud to say The Salvation Army is there serving, loving people who need it—whether they know it or not.
We've faced new challenges over the last year and a half and while they may continue to change from year to year, challenges will remain. It's simply a fact of life.
And yet … so will love.
We're here today to recognize our Caring Heroes. So many of you nominated these individuals—the brave, compassionate and uplifting Salvation Army employees, volunteers, officers and friends. We want to give the award to the best in caring today, and these individuals represent us all well.
These seemingly ordinary people have taken extraordinary action to make a tangible difference in the life of someone else. It's more than a good thought or a little prayer; they have invested themselves for the benefit of another.
In ways big and small, they are giving the world a lasting display of the love behind their beliefs. And that source is important.
1 John 4:19 is a short but profound verse: "We love because he first loved us."
God is love, created love itself and loved us first.
That love doesn't stay between us and God, though. It must extend to others.
Jesus gave us this instruction in Luke 10:27: "'Love the Lord your God with all your heart and with all your soul and with all your strength and with all your mind'; and, 'Love your neighbor as yourself.'"
In your community, The Salvation Army exists today because someone at some point in history saw a need that the Army was uniquely suited to address. In some of our communities, that service may go back to the late 1880s and The Salvation Army is still there serving today—still meeting needs. Still showing love.
It's what The Salvation Army is known for: meeting human needs in his name without discrimination. Acting as the extended arms of a loving Christ.
I love the line in the song, "Love Changes Everything," that says: "Love will never let you be the same."
Clearly, that's true for these Caring Heroes and I want to say: thank you for your service, for your ministry, for your love.
Each one of us has the power to make an impact on the lives of those we encounter. Today, I challenge you to reflect on God's love for you and how you might show love in your life.
Love changes everything. 
Additional resources:
Listen and subscribe to the Do Gooders Podcast now.