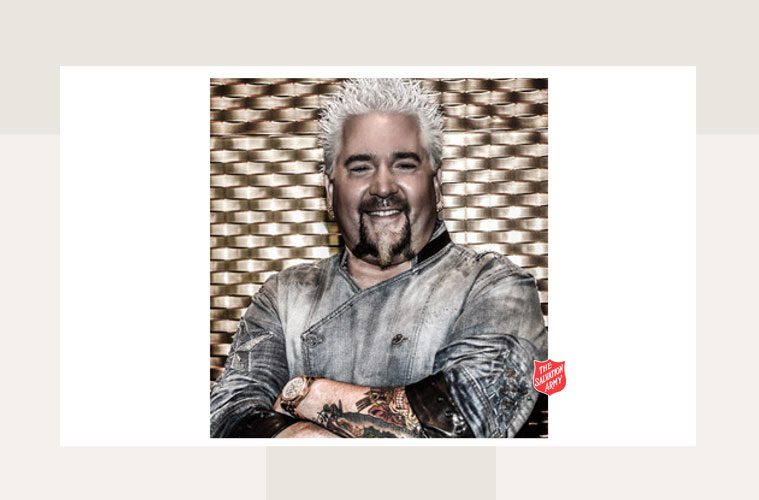 07: How food makes us feel good with Guy Fieri
When Guy Fieri was just 10 years old, he sold soft pretzels from a three-wheel bicycle cart that he built with his father.
Through the years, Guy has opened more than 60 restaurants around the world, starred in seven TV series and executive produced a number of others, inducted into the BBQ Hall of Fame, and authored six best-selling cookbooks. Recently, he became the third chef ever to receive a star on the Hollywood Walk of Fame.
Guy has created a culinary empire. When not filming, "Diners, Drive-Ins, and Dives" or "Guy's Ranch Kitchen," he supports several organizations out to do good, including his own Cooking with Kids Foundation and as a partner in The Salvation Army's Emergency Disaster Services.
When wildfires scorched his hometown of Santa Rosa, California, Guy and his family were evacuated; only for him to return to the frontlines with a cooking trailer, team and food to prepare thousands of meals each day for evacuees, volunteers, and firefighters.
As Guy says, food makes people feel good. In today's episode he says if he can bring comfort to a tragic situation, that's exactly what he's going to do.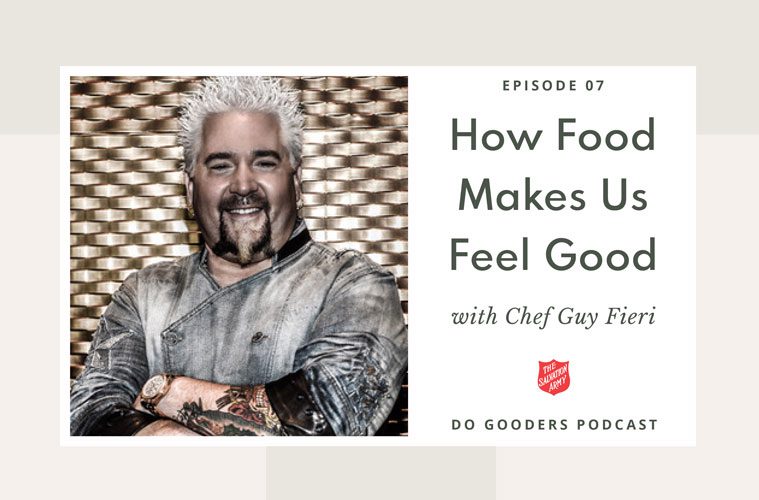 Show highlights include:
If you could only cook one thing this summer, what would it be? Be creative and open minded: Whatever's freshest at the farmer's market.

When did your love for food begin? Childhood: Food was always his epicenter; would ask his mom what's for dinner even before eating breakfast.

What does it mean to eat well? Guy feels bad for people who have to eat a specific diet. He says to find a balance, eat in moderation and pay attention to your body.

What a chef needs to succeed, besides the ability to cook: Imagination, daringness, willing to fail, creativity and enthusiasm.

What motivates Guy, and how does he do it all? Work hard, have a direction and vision, love what you do, and surround yourself with great people.

Common denominator: Food brings people together and adds goodness to the world. Food keeps us going.

What can you do during a tragedy? Don't wait for it to happen; get involved and step up to support others.

What's it like to work with The Salvation Army? Finger on the pulse of the community; and home away from home during difficult times.

Why is food an important part of disaster relief? When you're hungry, you'll eat anything. Food always makes you feel better. There's nothing left to look forward to, except your next meal.

Cooking is a life skill: Start at home because kids need to know the basics to appreciate food and make good choices.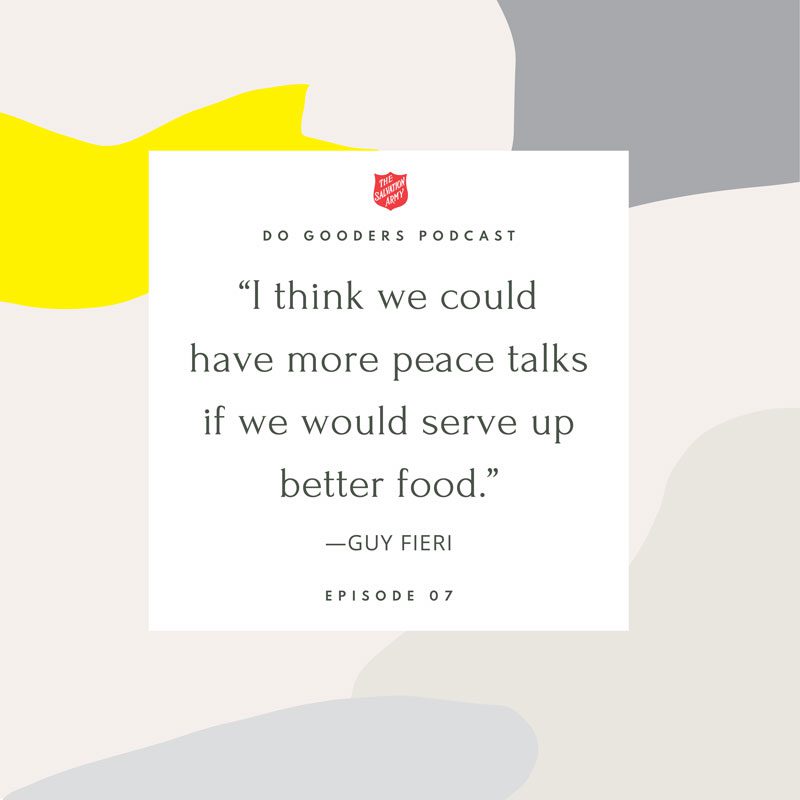 Good words from Guy Fieri in this show:
"Eat in moderation. That doesn't mean you can't have an indulgence. Live in the moment."
"Food is the common denominator of all people. You have food at the good ceremonies and you have food at the bad ceremonies. I think we could have more peace talks if we would serve up better food."
"Work hard, have a direction and vision, love what you do, and surround yourself with great people."
"We have the people, we have the skills, we have the ability to help those in need."
Additional resources:
Download this episode wherever you get your podcasts. Connect with Guy Fieri via his website.
[button color="yellow" size="normal" alignment="none" rel="follow" openin="newwindow" url="https://podcasts.apple.com/us/podcast/the-do-gooders-podcast/id1462063355″]SUBSCRIBE AND LEAVE A REVIEW[/button]