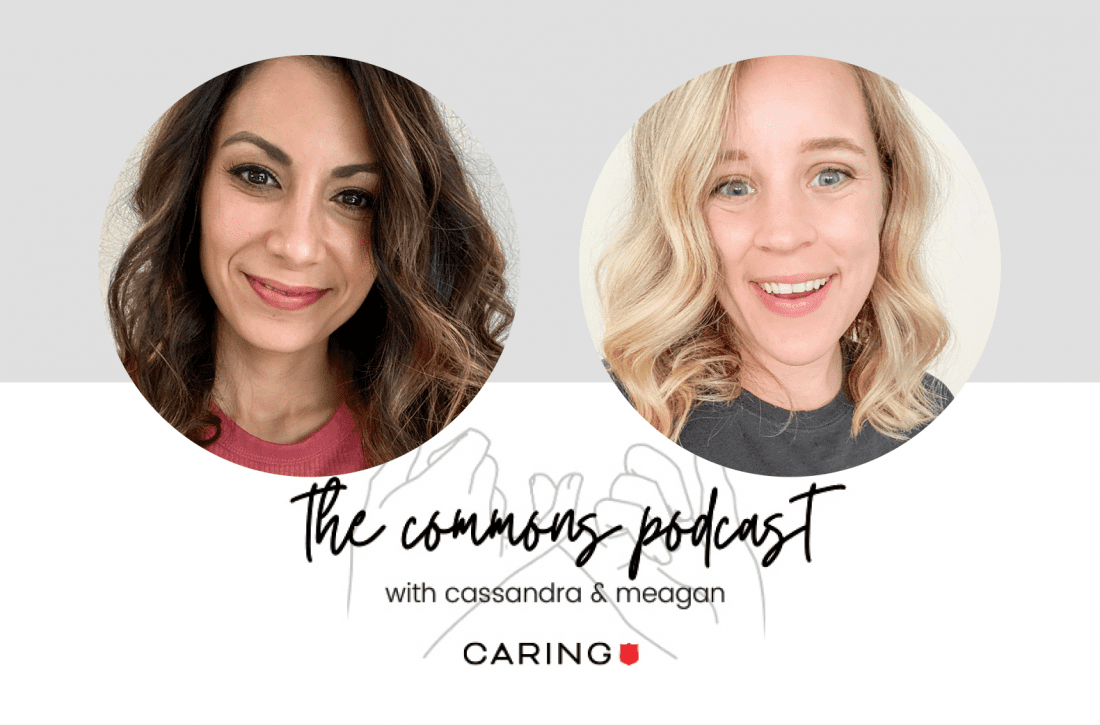 Introducing The Commons Podcast
The Commons is a new podcast from The Salvation Army's Caring Magazine for women who want to talk about relevant and relatable topics—from mental health to marriage, and even what the Bible says about equity. 
The show is co-hosted by Cassandra Amezquita and Meagan Ruff, two women who are both officers (or pastors) in The Salvation Army, moms and Jesus followers with full hands and full hearts. Like the Commons was the go-to hangout at The Salvation Army College for Officer Training, join in this Commons community to find a safe space to get into what matters, grow in your faith, and—from time to time—laugh about something ridiculous. 
We caught up with Cassandra and Meagan to get to know them and hear more about the first season of The Commons.
What are you most passionate about? 
Cassandra Amezquita: Following Jesus, loving my family, and helping others thrive. 
Meagan Ruff: Being made more like Jesus, raising my girls to be Jesus followers, building community, coffee, and adventuring with my family.
What's been your biggest transformation to date? 
CA: Devoting myself to full-time ministry as an officer in The Salvation Army. I have tried to be obedient to the calling that God placed in my heart. 
MR: Becoming a parent. I think with each daughter (I have three!), I've been more and more humbled. I've experienced the closeness and tenderness of Jesus as I've navigated caring for each baby. Even as a believer, my perspective before becoming a mom was very narrow and self-centered. I expected perfection almost always. Now, Jesus has made me more gracious toward myself and others, and I am so thankful. 
What resources have helped you along the way? 
CA: Mentorship, friendships, collaborating with my husband, and always leaning on God's faithfulness.
MR: My husband, good mentors, friends…all people that point me back to Jesus. 
What is life like for you in this season? 
CA: In this season I have figured out how to declutter not only my house, but also my schedule. I try to make space for more relational interactions and I try to slow down and be more in the moment. 
MR: Life for me in this season is wild and I've just learned to accept it. My kids are perpetual tornados of mess and emotion, so it feels like nothing is ever calm or slow. Thankfully, it is also wildly fun. 
What is a common myth about Jesus-followers you wish you could debunk?
CA: I used to believe in a fear-based Gospel, where the threat of going to hell, disappointing God or being a hypocrite led my faith. However, I have come to realize that following Jesus means accepting his abundant grace. I am a part of a community of believers who are also works-in-progress, and realising that obedience takes dedication but a life without Christ will never be fulfilling. 
MR: I think the biggest myth I'd want to debunk is that all Jesus-followers are the same. Sometimes the only thing I have in common with other Jesus-followers is that we both follow Jesus, and that's what makes the body of Christ beautiful. Being a Jesus-follower doesn't mean we automatically all watch the same movies, listen to the same music, vote the same way or like the same coffee. 
What compelled you to become an officer—a pastor? 
CA: I had other plans for my future when I was 21. I thought I would be pursuing grad school and possibly move out East. I didn't think I needed a relationship and thought I could let my talents and love for ministry stay superficial. However, the Holy Spirit spoke to me in a personal way when I was most conflicted between my own plans and a potential opportunity to serve in full-time officership. In a moment of worship, I lifted my prayers and I felt God say to me, "Everything you have gone through is for a purpose, and that purpose is to serve me." The only thing I could do is respond in obedience, and well, I am so glad that I did. 
MR: When my husband and I first started dating, we knew pretty early on that we would eventually want to do something together in ministry. After many other ideas and considerations, we kept coming back to officership. It was clear that God was guiding us toward it. We love community, people, service…and becoming officers not only fit those desires, but also allows us to do it all as a family. Our ministry as officers is an entire Ruff family ministry, and we truly feel that God did that on purpose.
What do you love most about The Salvation Army? 
CA: I love that there is a genuine desire to love and care for others. 
MR: OTHERS. So many churches I've been a part of focus completely inward, and The Salvation Army cares for its people but does so while reaching out to others. That's what Jesus did and that's why I love it.
How did you two meet? Are you real-life friends? 
CA: We met officially at the College for Officer Training, The Salvation Army's training school for officers—our seminary program. We both had two sweet girls who were soon to become best friends. We bonded over motherhood, and other mutual interests. We also worked together at The Commons, the cafe and lounge for the students at the college. Before we knew it we were taking late night trips to Target and planning baby showers for each other. To date, Meagan is one of my closest friends. We check-in almost every day and have encouraged each other through tough moments and through victories as well. 
MR: I remember seeing Cassandra at a Salvation Army event, knowing that she was going to be in my training session, and she had her little 3-month-old Emma with her. I was pregnant and had just found out my baby was also a girl, so I was like, "Oh! A potential friend for me and for my baby!" When we started school, we were assigned to the same discipleship group, and just really clicked! Cassandra is the kind of friend that I can go to about anything, and know that she will be there for me with support, a listening ear, a funny meme, or whatever the situation calls for. Cassandra also introduced me to hot cheetos, so if that's not real-life friendship, I don't know what is! 
What is your vision for The Commons Podcast? 
CA: I hope that the women listening in to the podcast can relate to the topics we bring up. We think that the topics we chose are necessary conversations to have. Our vision is to lead with relatability and vulnerability. We hope those listening will feel a little less alone and a little more connected by this sense of community we are attempting to establish.
MR: I see The Commons Podcast as a community. A space to feel seen, be heard, and know that we're all welcome. I see people excited about tuning in, dialoguing about topics on social media, and ultimately furthering the Kingdom through The Commons community.
What can we expect in the upcoming first season?
CA: We have lots of great guests lined up, some of them will share insight into self-care, parenting, marriage and ministry. None of us are experts but there is so much experience and wisdom to be shared. 
MR: Honest talk, laughs, lots of book recommendations and coffee ideas, incredible guests, and ultimately the beginning of a lot of important conversations for us and our listeners. 
Finally, a lightning round of questions about you.
Currently reading/listening to: 
CA: Book: "No-Drama Discipline" // Listening to: The Anatomy of Murder Podcast
MR: Book: "Renovation of the Heart in Daily Practice" by Dallas Willard // Listening to: The Making An Effort Podcast
Go-to coffee order: 
CA: Iced Matcha Latte with oat milk
MR: Brown sugar latte with oat milk, hot or iced 
Something you're not good at: 
CA: Math 
MR: Venturing into new things (music, tv shows, foods)
First concert you attended: 
CA: Shakira
MR: Jewel and Keith Urban (I can't remember who was headlining and who was opening? Haha!)
First job: 
CA: After-school program leader
MR: Barista!
Something about you that surprises people: 
CA: I can skateboard.
MR: I'm building a tiny house.
Favorite movie: 
CA: 50 First Dates
MR: That Thing You Do
Your happy place: 
CA: My parents' house on a weekend afternoon when the second I walk in the smell of Mexican comfort food embraces me and the sound of laughter fills the air.
MR: My house on Sunday nights, with friends over for dinner to kick off our Sabbath.
Three adjectives to describe you: 
CA: Caring, Prepared, Creative
MR: Kind, Passionate, Resourceful
Advice you'd give to 18-year-old you: 
CA: Speak even if your voice shakes.
MR: Hold tightly to Jesus and loosely to everything else. 
---
Do Good:
Subscribe to the weekly Do Good Digest now

and never miss a new episode of The Commons Podcast—including when the show drops May 12 with a Launch Party Giveaway!

Get inside the

Caring

Magazine Scripture Study Collection

and find a suite of free, downloadable Bible studies to guide you through topics from New Beginnings Through Forgiveness, to Understanding our Imago Dei or Life Hacks From David.

You've probably seen the red kettles and thrift stores, and while we're rightfully well known for both…The Salvation Army is so much more than red kettles and thrift stores. So who are we? What do we do? Where? Right this way for Salvation Army 101.